Wedding Ceremonies
Having you wedding ceremony in Central Park can be a truly magical experience, combining all New York City's metropolitan style and energy with the natural splendors of the park.  Of course there are a few technicalities that must be addressed before hand, while top hat and tails are optional the paperwork isn't.
Central Park offers many beautiful locations for wedding ceremonies and photography. Weddings in Conservatory Garden are planned through the Central Park Conservancy. Weddings in other Central Park locations are planned through NYC Parks.
For weddings in the Conservatory Garden, see below.
For weddings anywhere else in Central Park, please click here.
Wedding Ceremonies at Conservatory Garden
The Conservatory Garden at Fifth Avenue and 105th Street, is the location of numerous ceremonies and photo sessions each year. The six-acre Garden is made up of three smaller gardens, each with its own particular charm. Extensive displays of flowers, shrubs, and trees are in bloom from early spring through late October.
Ceremonies and photography sessions at Conservatory Garden require permits from the Central Park Conservancy; permit fees directly support the maintenance and cultivation of Conservatory Garden. You may print out and complete the permit application form and return it by mail along with a check or money order payable to Central Park Conservancy. Credit cards are also accepted through the form on the application. Your date will be reserved and confirmed immediately, providing there is no conflict with a previously reserved party. If a conflict exists, you will have the opportunity to choose another date and time. When your date is confirmed, a permit will be mailed to you one month before your date.
Wedding Ceremonies
Permit fee is $400.
There is a cancellation fee of $200. However, if you choose to reschedule within one year from the original date, we will hold your payment and apply it to the new date. This offer is valid for one year only from the date of your wedding, after which time no portion of your payment will be refunded.
Additional fee of $100 for photography (see below).
Date, time (one hour maximum), and location within the Garden must be reserved.
Wedding parties are limited to 100 people.
Use of the lawn in the Central Garden is prohibited (see exception for wedding photography below).
The ceremony permit is non-transferable.
The public has access to the Garden and can only be requested to stay clear of the immediate area of the wedding/photography session.
The following are also prohibited
The Garden is a "Quiet Zone." Amplification for musical instruments, sound systems or other purposes is not permitted.
Rules and directives of Park employees must be followed.
Only scheduled, half-hour wedding photography sessions are allowed on the lawn area.
Wedding receptions are not permitted in the Garden.
Alcoholic beverages are not permitted.
Chairs, tents, tables, podiums, rugs, runners or other props are not permitted.
Floral pieces, balloons, ribbons, ropes, banners or draping around plantings are not permitted.
Throwing rice, birdseed, real/artificial flower petals or confetti is not permitted.
Drones of any size or functionality.
Late arrivals must check in with security staff before proceeding to their event or photo session.
The visiting public has access to the Garden and can only be requested to stay clear of the immediate area of the wedding or photography session. Wedding parties/planners may not demand that other visitors leave the area. Only staff or security can request that the public stay clear of the immediate area.
Pursuant to Section 1-04(i) of the NYC Parks Rules, the release of birds or animals of any kind in the Garden is prohibited.
Wedding Photography
Non-refundable permit fee is $100, but you may reserve another date upon cancellation of the original date.
Date and time (30 minutes) must be reserved in advance.
Wedding parties may use the lawn in the Central Garden for 30 minutes only and are limited to no more than 25 total guests who are part of the bridal party and/or parents.
Photography permit fees are non-transferable.
Rules and Regulations for Ceremony
Bring your permit with you on the day of your event. Park or security personnel will ask to see it.
The permittee is liable for all damage or injury to property or persons that may occur or be caused by use of the permit, and by accepting the permit, the permittee agrees to save the City of New York, the Parks Department and the Central Park Conservancy, Inc. harmless from any claim whatsoever which may result from such use.
Mail your permit application along with form of payment (check, money order, credit card information) to the address shown at the bottom of the application.
Questions? Call 212-360-2766, Monday through Friday.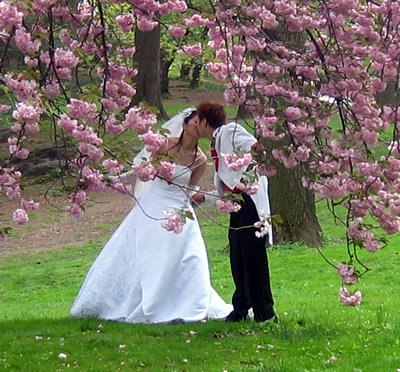 [fts_twitter twitter_name=centralparkblog tweets_count=6 cover_photo=yes stats_bar=yes show_retweets=yes show_replies=yes]