Croton Reservoir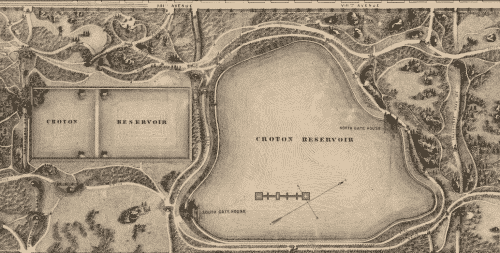 In 1842 the Croton Reservoir was located between 79th and 86th Streets between Sixth and Seventh Avenues, it was New York City's new, 31-acre Receiving Reservoir, a body of water built to store fresh drinking water piped in from upstate via the just-completed Croton Aqueduct. Built on high ground on rocky, unpopulated terrain, the reservoir held water that could easily flow down to the southern end of Manhattan, where the city existed at the time. Sloped embankment walls formed its rectangular perimeter. Both the outer and inner walls were covered with stone masonry, with the walls planted on top with grass surrounded by a double fence to create a mile long promenade.
It was finally drained in 1929, after the completion of the new water tunnel. Plans to turn the land into a World War I memorial and then a promenade linking the Metropolitan Museum of Art with the Museum of Natural History were proposed, and then discarded. By 1936, the former reservoir was filled in with land excavated from the development of the Eighth Avenue Subway and Rockefeller Center—and the Great Lawn was born.
When Frederick Law Olmsted and Calvert Vaux began developing the park in the late 1850s, they weren't too happy with the rectangular reservoir, which didn't mesh with their pastoral, naturalistic design. But since they couldn't get rid of it, they hid it behind a grove of trees. A second receiving reservoir built in a more natural, oval shape in the 1860s just north of the original reservoir (above) fit their plan better. With New York's population in the late 19th century multiplying year by year and water usage increasing, the Receiving Reservoir's days were numbered. Remnants of the Receiving Reservoir can be found here and there. "The bedrock that forms the edge of Turtle Pond is the same that formed the southwest corner of the reservoir," states nyc.gov. "Remains of the reservoir's western wall can be found in a stand of trees north of the Delacorte Theater (above). The most impressive ruin is located along the 86th Street transverse wall where, tucked up against the east end of the Central Park Police Precinct is the northeast corner of the original Receiving Reservoir. Its sloped stone embankment wall is unmistakable." The ghostly, granite remains of the 42nd Street Distributing Reservoir can be seen on a lower wall of the New York Public Library.