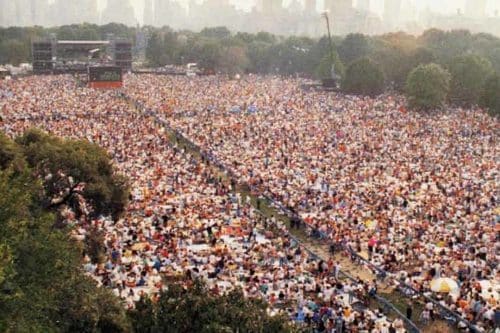 As NYC approaches some semblance of pre-pandemic normalcy restaurants are filling, Broadway is reopening and tourists are flocking back to Times Square.  But, perhaps the best proof that New York City has returned to its full glory may be a mega-concert on Central Park's legendary Great Lawn.
Seeking a grand symbol of New York's revitalization after a brutal pandemic year, Mayor Bill de Blasio is planning a large-scale performance by multiple acts and has called on Clive Davis, the 89-year-old producer and music-industry eminence, to pull it together.
The show, tentatively set for Aug. 21, is still coming together, with no artists confirmed, though Davis — whose five-decade career highlights have included working with Janis Joplin, Bruce Springsteen, Aretha Franklin, Alicia Keys and Whitney Houston — said he is aiming for eight "iconic" stars to perform a three-hour show for 60,000 attendees and a worldwide television audience.
De Blasio said in an interview that the concert was part of a "Homecoming Week" to show that New York City is coming back from the pandemic — a celebration for residents and those in the region who might not have visited in a while.
"This concert is going to be a once in a lifetime opportunity," de Blasio said. "It's going to be an amazing lineup. The whole week is going to be like nothing you've ever seen before in New York City."  We can't wait – stay tuned!