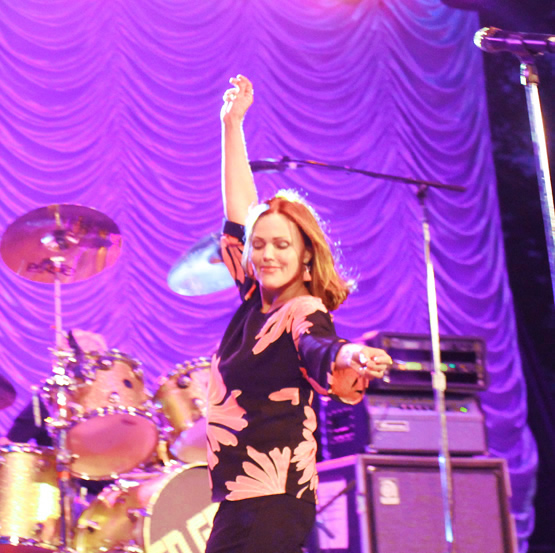 The City Parks Foundation SummerStage has announced its return to live, in-person performances in Central Park this summer. Pending adjustments to current NYC restrictions, free music and dance performances will return to Rumsey Playfeld in Central Park this summer. Performances will follow all state and local regulations regarding large-scale outdoor events, including limited capacity, masks and socially distanced seating. Admittance will require a free ticket, proof of vaccine and/or negative COVID test, and health screening – such as a questionnaire and temperature checks. All in-person performances will be live-streamed on SummerStageAnywhere.org, rights permitting.
Free performances will feature distinctly New York genres including hip-hop, Latin, indie rock, contemporary dance, and global, and will also include a celebration of jazz at the annual Charlie Parker Jazz Festival. Artists, performance schedules, and free ticket reservation details will be announced at a later date. Although SummerStage neighborhood locations will be more limited this summer, the CityParks PuppetMobile will present free, family-friendly marionette theater performances in parks throughout the city. Additionally, City Parks Foundation will soon launch a special micro-grants program for grassroots arts organizations, individual artists, community parks groups, and local community-based organizations to provide funding for free cultural programs in parks and neighborhood plazas in the city's most under-resourced communities. Both of these efforts will help ensure that free cultural programs are available around the city's public spaces.
The First benefit show of the SummerStage season to be announced is scheduled for Friday, September 16 with folk-rock band, Dawes, as part of their 2021 tour to support their new album, "Good Luck with Whatever." Tickets — assuming full venue capacity — will be on sale through AXS Ticketing this Friday, April 16 at 10:00 AM ET on www.axs.com. Should health and safety guidelines continue to require more limited seating capacity, tickets may be refunded or modi?ed by The Bowery Presents.
Rock band Barenaked Ladies Last Summer On Earth tour bene?t show on July 8, 2020 that was postponed due to the pandemic has also been rescheduled for July 6, 2022. All previously purchased tickets will remain valid for 2022.
2021 Schedule
THURSDAY JUNE 17, 2021
JAZZ AT LINCOLN CENTER ORCHESTRA WITH WYNTON MARSALIS
* FREE
Wynton Marsalis's name looms large in the world of jazz, and for good reason—the GRAMMY® -winning trumpeter, composer, and bandleader has helped shepherd the cultural institution of jazz into a...
7:00 pm - 8:30 pm (Doors open 5:00 pm)
SummerStage, Central Park
Rumsey Playfield, Manhattan 10021
SUNDAY, JUNE 20
CHRIS BOTTI
* $75 - $125
All patrons, over the age of two, will show a negative diagnostic test result for COVID-19 using a Food and Drug Administration (FDA) or Department of Health authorized polymerase chain...
3:00 pm - 5:00 pm (Doors open 1:30 pm)
Central Park
Rumsey Playfield, Manhattan 10021
CHRIS BOTTI
* $75 - $125
All patrons, over the age of two, will show a negative diagnostic test result for COVID-19 using a Food and Drug Administration (FDA) or Department of Health authorized polymerase chain...
8:00 pm - 10:00 pm (Doors open 6:00 pm)
Central Park
Rumsey Playfield, Manhattan 10021
SUNDAY, JUNE 27
GEORGE CLINTON & PARLIAMENT FUNKADELIC
* $75 - $125
All patrons, over the age of two, will show a negative diagnostic test result for COVID-19 using a Food and Drug Administration (FDA) or Department of Health authorized polymerase chain...
2:30 pm - 4:00 pm (Doors open 1:00 pm)
Central Park
Rumsey Playfield, Manhattan 10021
GEORGE CLINTON & PARLIAMENT FUNKADELIC
* $75 - $125
All patrons, over the age of two, will show a negative diagnostic test result for COVID-19 using a Food and Drug Administration (FDA) or Department of Health authorized polymerase chain...
7:30 pm - 9:00 pm (Doors open 6:00 pm)
Central Park
Rumsey Playfield, Manhattan 10021
SUNDAY, JULY 11
GALACTIC FEATURING ANJELIKA "JELLY" JOSEPH AND SPECIAL GUEST MONONEON
* $45 - $85
All patrons, over the age of two, will show a negative diagnostic test result for COVID-19 using a Food and Drug Administration (FDA) or Department of Health authorized polymerase chain...
2:30 pm - 4:00 pm (Doors open 1:00 pm)
Central Park
Rumsey Playfield, Manhattan 10021
GALACTIC FEATURING ANJELIKA "JELLY" JOSEPH AND SPECIAL GUEST MONONEON
* $45 - $85
All patrons, over the age of two, will show a negative diagnostic test result for COVID-19 using a Food and Drug Administration (FDA) or Department of Health authorized polymerase chain...
7:30 pm - 9:00 pm (Doors open 6:00 pm)
Central Park
Rumsey Playfield, Manhattan 10021
SATURDAY, JULY 24
SUN RA ARKESTRA / SISTAZZ OF THE NITTY GRITTY
* FREE
This performance will be livestreamed on SummerStageAnywhere.org. The Arkestra is no stranger to SummerStage; they headlined the festival's first-ever concert back in 1986 at the Central Park Bandshell, when they...
7:00 pm - 8:30 pm (Doors open 5:00 pm)
SummerStage, Central Park
Rumsey Playfield, Manhattan 10021
SUNDAY, JULY 25
DANCE IS! FEATURING ARTISTS FROM RENNIE HARRIS PUREMOVEMENT, COMPLEXIONS CONTEMPORARY BALLET, PARSONS DANCE, A.I.M., ALVIN AILEY AMERICAN DANCE THEATER WITH SPECIAL GUEST MADISON MCFERRIN, AND SOLES OF DUENDE WITH GUEST ARTIST, ASHA GRIFFITH
* FREE
This performance will be livestreamed on SummerStageAnywhere.org. A dance showcase featuring some of the art form's most exciting talents will feature performances by artists from Rennie Harris Puremovement, a company...
7:00 pm - 8:30 pm (Doors open 5:00 pm)
SummerStage, Central Park
Rumsey Playfield, Manhattan 10021
SATURDAY, JULY 31
THE ORIGINALS
* FREE
This performance will be livestreamed on SummerStageAnywhere.org. Hip-hop has become a world-wide phenomenon, embedded in the sounds of pop music of every continent. But before it went global, it was...
7:00 pm - 10:00 pm (Doors open 5:00 pm)
SummerStage, Central Park
Rumsey Playfield, Manhattan 10021
SUNDAY, AUGUST 1
TITO NIEVES
* FREE
This performance will be livestreamed on SummerStageAnywhere.org. Known as the "Pavarotti of Salsa," Tito Nieves, with his booming, crystalline voice is capable of carrying an entire ensemble. The Puerto Rican-born,...
7:00 pm - 8:30 pm (Doors open 5:00 pm)
SummerStage, Central Park
Rumsey Playfield, Manhattan 10021
SUNDAY, AUGUST 8
MET OPERA SUMMER RECITAL
* FREE
This performance will be livestreamed on SummerStageAnywhere.org. One of New York's most iconic cultural institutions, the Metropolitan Opera will return to Central Park for its 12th year on August 8....
7:00 pm - 8:30 pm (Doors open 5:00 pm)
SummerStage, Central Park
Rumsey Playfield, Manhattan 10021
SATURDAY, AUGUST 14
MARC REBILLET, DJ PREMIER AND BRADY WATT
* FREE
This performance will be livestreamed on SummerStageAnywhere.org. This supergroup brings together three innovative producers from around the country to perform live at SummerStage. Marc Rebillet gave new meaning to the...
7:00 pm - 8:30 pm (Doors open 5:00 pm)
SummerStage, Central Park
Rumsey Playfield, Manhattan 10021
SUNDAY, AUGUST 15
ARMAND HAMMER & THE ALCHEMIST FEATURING MOOR MOTHER, KAYANA, FIELDED
* FREE
This performance will be livestreamed on SummerStageAnywhere.org. The New York City rap scene has never been more exciting, bursting with a diverse array of talent building on the form while...
7:00 pm - 8:30 pm (Doors open 5:00 pm)
SummerStage, Central Park
Rumsey Playfield, Manhattan 10021
SATURDAY, AUGUST 21
ANTIBALAS
* FREE
This performance will be livestreamed on SummerStageAnywhere.org. Antibalas ("bulletproof" in Spanish) is an ensemble of quintessentially New York musicians making original Afrobeat and Afrocaribbean-inspired jazz and funk music. Founded in...
7:00 pm - 8:30 pm (Doors open 5:00 pm)
SummerStage, Central Park
Rumsey Playfield, Manhattan 10021
TUESDAY, AUGUST 24
LAKE STREET DIVE / ALLISON RUSSELL
* $49.50 - $55
Please Note: This event will be presented in accordance with applicable public health requirements as of the date of the event; which could include changes to capacity, attendance prerequisites, procedures, and...
7:00 pm - 10:00 pm (Doors open 6:00 pm)
Central Park
Rumsey Playfield, Manhattan 10021
SUNDAY, AUGUST 29
SATURDAY, SEPTEMBER 4
DOM SALVADOR SEXTET / SCREENING: DOM SALVADOR & ABOLITION
* FREE
SCHEDULE 5:30 PM – Screening of "Dom Salvador & Abolition" 7 PM – Performance by The Dom Salvador Samba Jazz Sextet This performance will be livestreamed on SummerStageAnywhere.org. -- This...
7:00 pm - 8:30 pm (Doors open 5:00 pm)
SummerStage, Central Park
Rumsey Playfield, Manhattan 10021
SATURDAY, SEPTEMBER 11
ERICA CAMPBELL
* FREE
This performance will be livestreamed on SummerStageAnywhere.org. Erica Campbell (as one-half of the dynamic gospel duo Mary Mary) has recorded seven albums, won four GRAMMYS®, sold millions of records, starred...
7:00 pm - 8:30 pm (Doors open 5:00 pm)
SummerStage, Central Park
Rumsey Playfield, Manhattan 10021
MONDAY, SEPTEMBER 13
(SOLD OUT) MACHINE GUN KELLY "TICKETS TO MY DOWNFALL" TOUR WITH JXDN AND KENNYHOOPLA
* $49.95 - $50
Please Note: This event will be presented in accordance with applicable public health requirements as of the date of the event; which could include changes to capacity, attendance prerequisites, procedures,...
6:00 pm - 10:00 pm (Doors open 5:00 pm)
SummerStage, Central Park
Rumsey Playfield, Manhattan 10021
FRIDAY, SEPTEMBER 17
DAWES WITH SPECIAL GUESTS BONNY LIGHT HORSEMAN & ERIN RAE
* $46.50
Please Note: This event will be presented in accordance with applicable public health requirements as of the date of the event; which could include changes to capacity, attendance prerequisites, procedures,...
7:00 pm - 10:00 pm (Doors open 6:00 pm)
Central Park
Rumsey Playfield, Manhattan 10021
SUNDAY, SEPTEMBER 19
PATTI SMITH AND HER BAND
* FREE
An icon of downtown New York City art and culture, Patti Smith's legacy is tightly woven into the fabric of its history. One of the first acts to break out...
7:00 pm - 8:30 pm (Doors open 5:00 pm)
SummerStage, Central Park
Rumsey Playfield, Manhattan 10021
TUESDAY, SEPTEMBER 21
INDIGO GIRLS & ANI DIFRANCO
* $59.50 - $79.50
Please Note: This event will be presented in accordance with applicable public health requirements as of the date of the event; which could include changes to capacity, attendance prerequisites, procedures,...
7:00 pm - 10:00 pm (Doors open 6:00 pm)
Central Park
Rumsey Playfield, Manhattan 10021
WEDNESDAY, JULY 6
BARENAKED LADIES - LAST SUMMER ON EARTH TOUR WITH GIN BLOSSOMS AND TOAD THE WET SPROCKET
* $59.50 - $85
Over the course of their remarkable career, Barenaked Ladies have sold over 15 million albums, written multiple top 20 hits (including radio staples "One Week," "Pinch Me," "If I Had...
6:00 pm - 10:00 pm (Doors open 5:00 pm)
Central Park
Rumsey Playfield, Manhattan 10021