Central Park presents an outdoor cinema series every summer. Most of these films usually feature a New York theme and they are a great way to enjoy a summer evening in the park.
The Central Park Film Festival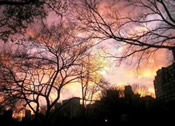 Ten years ago, the Central Park  Film Festival screened its first movie, Annie Hall, to an audience of 200. The Festival has grown since 2003: last year, 3,000 people turned out to watch El Cantante.
This year, the Central Park  Film Festival will feature cult classic films. Presented by Bloomberg since its inception, the festival will take place from August 21-25. All screenings begin at 8:00 pm, rain or shine, and gates open to the public at 6:30 pm. Films will be shown in the landscape north of Sheep Meadow, beside Le Pain Quotidien (mid-Park at 69th Street). Enter the Park at 72nd Street. The festival is free of charge and all movies will be closed captioned. Bring a picnic!
To help choose which film will screen on the festival's final night, visit ABC7 online to cast your vote for Coming to America or Clerks. Voting will begin in late July.
Tuesday, Aug. 21: Do the Right Thing (1989) On the hottest day of the year on a street in the Bedford-Stuyvesant section of Brooklyn, neighborhood hate and bigotry smolders until it explodes into violence.
Wednesday, Aug. 22: Pee-wee's Big Adventure (1985) Eccentric man-child Pee-Wee Herman embarks on the biggest adventure of his life across the country as he sets out to find his beloved bike, stolen in broad daylight..
Thursday, Aug. 23: The Big Lebowski (1998) "Dude" Lebowski, mistaken for a millionaire Lebowski, seeks restitution for his ruined rug and enlists his bowling buddies to help get it.
Friday, Aug. 24: Animal House (1978) At a college in the early 1960s, Dean Vernon Wormer is determined to expel the entire Delta Tau Chi Fraternity, but those troublemakers have other plans for him.
Saturday, Aug. 25: Viewers' Choice(Voting will begin in late July.)
Coming to America (1988) It is the 21st birthday of Prince Akeem of Zamunda and he is to marry a woman he never saw before. Now the prince breaks with tradition and travels to America to look for the love of his life.
OR
Clerks (1994) Dante Hicks is a clerk at a local convenience store in New Jersey. On one particular Saturday morning, he gets called in on his day off. Once there, he must deal with multiple problems. And the biggest problem of them all: HE'S NOT EVEN SUPPOSED TO BE THERE TODAY!! Can Dante manage it all?