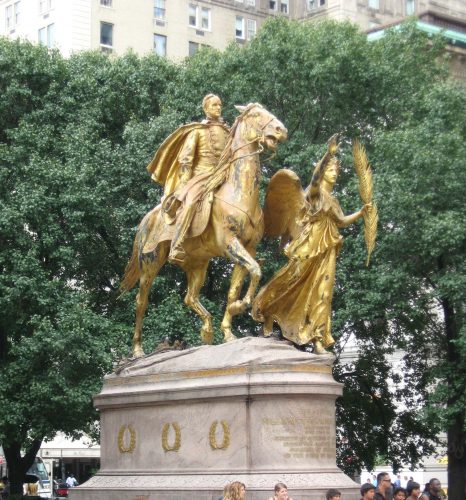 Grand Army Plaza features the statue of General William Tecumseh Sherman astride his horse. Across the street is the Plaza Hotel, the scene of countless movies, from North by Northwest to Home Alone.
The Grand Army Plaza was completed in 1916 and is named after the Grand Army of the Potomac that fought for the Union side during the Civil War. The statue of General Sherman is by the famous sculptor Augustus Saint-Gaudens. This was his last great work and fulfilled a long standing dream of his to pay tribute to the heroes of the Civil War.
To your right, as you enter the park is Freedman Plaza. Named for the founder of the Public Art Fund, Doris C. Freedman, the Plaza has been the site of more than 40 artist projects and commissions, featuring works by both internationally known and emerging artists including Liz Larner, Sarah Sze, Paul McCarthy, and Mark Handforth.
Next to the entrance to the park and the stairs downward you will see the Lombard Lamp to the left. It was a gift from the city of Hamburg Germany and is a replica of the streetlights that grace the historic Lombard Bridge in that city. Weighing more than twelve hundred pounds the ornate cast-iron and aluminum lamp features a base composed of garlands, cherubs and other decorative features.