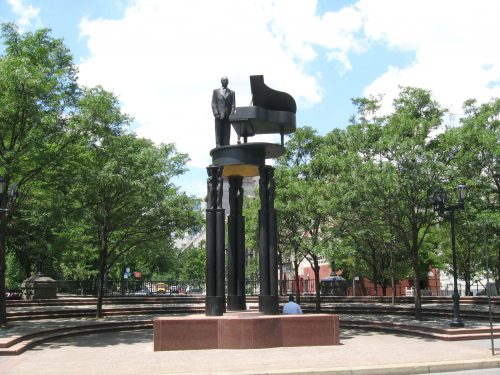 Named for the great jazz musician, Duke Ellington Circle is a traffic circle located at the Northeast corner of Central Park at the foot of Fifth Avenue and of 110th Street.  Formerly named "Frawley Circle", the traffic circle was renamed "Duke Ellington Circle" in 1995. In 1997, a 25 feet (7.6 m) tall statue by sculptor Robert Graham, depicting the Muses — nine nude caryatids — supporting a grand piano and Duke Ellington on their heads[2] was erected in the middle of the shallow amphitheater composing the circle. Though the circle diverts the flow of 110th street, Fifth Avenue maintains a direct route through the intersection.
In 1979 singer, pianist and jazz interpreter Bobby Short formed a committee whose intent was to commission a major permanent sculpture honoring Ellington. The Duke Ellington Memorial Fund selected contemporary artist Robert Graham to create this sculptural tribute.
Los Angeles based artist Robert Graham was well-known also for his monument to boxer Joe Louis in Detroit, Michigan, his Olympic Gateway in Los Angeles, California, and for his tableau at the Franklin Delano Roosevelt Monument in Washington, D. C. His artistic conception for this monument depicts an upright Duke beside his piano, supported by a matrix of female nudes the artist likened to the ancient Greek muses. The muses rest atop three columns which support a gilded bronze dome.
Though the sculpture is representational, it is meant to evoke the intangible qualities of Ellington's lasting musical artistry, and to serve as a bridge between elegant Fifth Avenue, pastoral Central Park and the Harlem community where "the Duke" achieved much of his fame. When the sculpture was unveiled in 1997, no less than three New York City mayors—Edward I. Koch, David N. Dinkins and Rudolph W. Giuliani—delivered remarks, and musical entertainment included such esteemed performers as Mr. Short and trumpeter Wynton Marsalis.