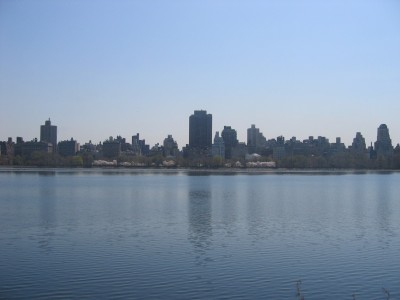 The Central Park Reservoir – now offi­cially named the Jaqueline Kennedy Onassis Reservoir – is located between 86th and 96th and covers a full one eight of the park's surface. The 106-acre water body is 40 feet deep and holds over a billion gallons of water. Once a critical part of the city's fresh water system it was disconnected as an active component since the new water tunnel was opened in 1991. It is probably best known now as home to the 1.58 mile running track that surrounds it. The reservoir is also currently the subject of a very public debate as several different plans are considered for its future; these include fishing piers, a marina, ball fields, restaurants and beaches. Hopefully the debate will rage on indefinitely and the current configuration will remain as it is.
Built between 1858 and 1862 the current reservoir formed part of a system that included a colossal holding basin at 5th Ave. and 42nd St. (site of the present library) and a smaller body of water that existed just to the south on what is now the Great Lawn (the only part to still exist forms Turtle Pond, at the foot of Vista Rock.) Until very recently the Reservoir was surrounded by a less than aesthetic six foot chain link fence. Then, in 2003, this was replaced by the installation of a new Reservoir fence, made of steel with cast-iron ornamentation, closely resembling the original historic fence. The change dramatically improved the view and now runners and strollers alike can enjoy the spectacular sight of the skyline of Manhattan towering above the shimmering waters of the Reservoir.
The main entrance to the Reservoir lies at 90th St. and 5th Ave. directly across from the Engineer's (or, more commonly, Runner's) Gate that connects the park drive with 5th Ave. Here is the most commonly used site for the start and finish of the year round road races sponsored by the New York Road Runner's Club. The NYRRC also sponsors the New York Marathon every year. This race boasts over 30,000 entrants from 112 countries and finishes at the southern end of the park, near Tavern on the Green.
The Reservoir Track was recently dedicated to Alberto Arroyo, the unofficial Mayor of Central Park.
Location: 85th Street to 96th Street, from east to west