Baby's Breath (Gypsophila)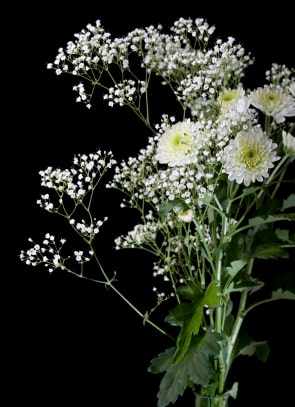 Perhaps one of the most evocative of names of any of the flowering plants that inhabit the Conservatory Garden is Baby's Breath.   With its spindly latticework of delicate stems and pearly white flowers Gypsophila is almost ethereal in its appearance.  It is easy to see how it could evoke the image of an infant's exhalations.
The facts – Baby's Breath is a genus of about 100 species of flowering plants in the family Caryophyllaceae, native to Europe, Asia and North Africa. Many species are found on calcium-rich soils, including gypsum, whence the name of the genus. Its botanical name means "lover of chalk", which is accurate in describing the type of soil in which this plant grows.
They are herbaceous annual and perennial plants growing to 5-120 cm tall. The leaves are opposite, linear to narrow triangular, often falcate (sickle-shaped), 1-7 cm long and 2-8 mm broad. The flowers are produced in large inflorescences, which may be either dense or open and lax; each flower is small, 3-10 mm diameter, with five white or pink petals.
Baby's Breath is almost always used as a filler, or accent, in bouquets.  Its delicate flowers form an almost winsome background to the bright blooms of roses or lilies and provide a restrained counterpoint to the vibrant colors that might otherwise seem to clash in combination.  In the Conservatory Garden they serve much the same purpose, helping to frame the brilliant roses, irises and lilies with just a soupçon of moderation.  Ahem.
Conservatory Garden
One of the hidden wonders of Central Park is the Conservatory Garden at Fifth Avenue and 105th St. A secluded oasis, just a few steps down from one of the City's busiest thoroughfares; the garden offers a fragrant respite from the gasp and clatter of the urban afternoon.