Balto
One of the most admired monuments in the park the Balto Statue stands on a rock outcropping on the main path leading north from the Tisch Children's Zoo.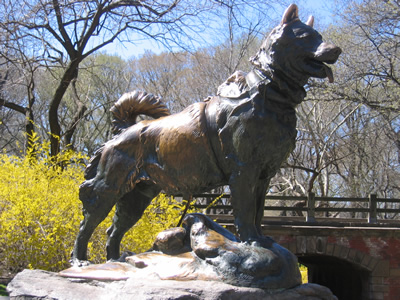 A 1995 animated movie was based on the heroic exploits of Balto, an Alaskan Malamute, who braved fierce Arctic weather to deliver a badly needed antitoxin to save a community from a diptheria epidemic. Balto actually later visited New York and saw his statue dedicated.
Frederick G.R. Roth, who designed the statue, was a well known animal sculptor. Roth's Balto is depicted with his dogsled harness hanging from his back, as he appears to survey the distance. A low-relief plaque bears the words "Dedicated to the indomitable spirit of the sled dogs that relayed antitoxins 660 miles over rough ice, across treacherous waters, through Arctic blizzards from Nenana to the relief of stricken Nome in the winter of 1925."
Just like the Alice in Wonderland sculpture, the glowing bronze patina is the result of the loving pats of countless children, and perhaps of adults, as they happen on Balto near Willowdell Arch.
Location : East Drive at 67th Street