Basketball
New York probably has the longest and richest basketball tradition of any city in the world (the fact that Dr. Naismith decided to open out of town notwithstanding) and the "City Game" is alive and well represented at two locations in Central Park.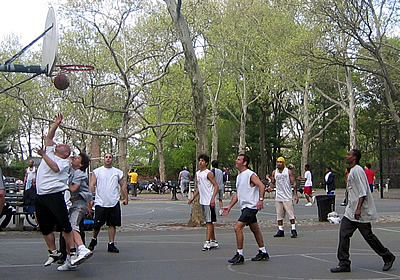 While it might not offer the urban drama displayed at the many schoolyards around town, the park does afford players the luxury of lining up a jump shot without being distracted by the clamor of rush hour traffic. So, whether you are looking for a friendly pick up game to test yourself against some of the local talent or just want to hoist up a few sky hooks, Central Park is the place to be.
The Conservancy also hosts a series of spring, summer, and fall basketball tournaments with teams organized in five divisions according to age and gender. Teams from all five boroughs compete in these double elimination tournaments for trophies and other prizes.
Divisions: 12 years and under, 14 years and under, 16 years and under, 18 years and under and girls unlimited to 18 years. Organized teams only. To register teams please call 212-348-4867 ext. 12.
Location: Just north of the Great Lawn, center of the park, at 85th St. At the North Meadow Recreation Center, mid park at 97th St.