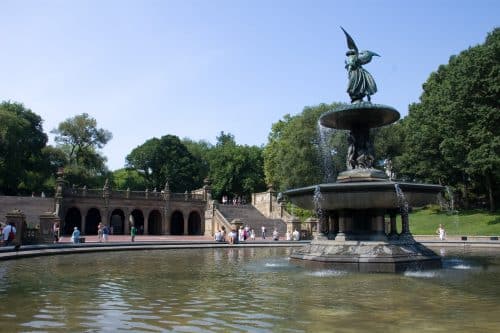 The richly-ornamented Bethesda Terrace overlooks the Lake and as well as the wooded shores of the Ramble. It also overlooks the Bethesda Fountain and its sculpture, Angel of Waters, which was designed by Emma Stebbins in 1873. Traditionally the 'Heart of the Park' Bethesda Terrace is one of the best places in the Park for people-watching. It is also easily the most photographed with early morning fashion shoots a regular occurrence and film crews visiting on an almost weekly basis. Entry to the Terrace is by way of the drive at 72nd St. or the Mall and one of the most picturesque walks through the park is along the Mall, beneath the green canopy of overhanging trees, ending with a view of the Fountain and Lake beyond.
As part of their Greensward Plan for Central Park Olmsted and Vaux were conscious of the fact that besides being a place to experience nature away from the urban sprawl the park also had to provide a place where people could gather. They needed to create a center for socializing, for people to see and be seen, Bethesda Terrace is that place. The split level Terrace also features elaborate ornamentation designed by Jacob Wrey Mould. This includes the two stone staircases that lead from the upper level to the Bethesda Fountain plaza and the Minton tiles that line the arcade ceiling. Mould is also responsible for the building several other park icons, including the original sheepfold that houses Tavern on the Green, but the Terrace, with its elaborate balustrades and sculptured seasonal details, is clearly his crowning work. It has also brilliantly fulfilled the designer's purpose in becoming Central Park premiere spot for crowd watching. Another aspect, perhaps unforeseen by Olmsted and Vaux is the Terrace's role as center stage to a wide variety of artists. The most famous of these is Thoth, one of New York City's most talented and celebrated street performers and subject of the 2002 Academy Award winning film of the same name.
Besides being a favorite destination of park visitors in search of a cool place to spend a summer afternoon The Fountain is also a celebrity in its own right. It has probably appeared in more movies than any other monument in the park, exuding a timeless romantic charm that makes it a perfect backdrop for cinematographers. In fact in, the 1973 feature "Godspell", the fountain becomes a character in its own right, with the newly recruited disciples splashing joyously around in the pool. It is a fantasy that has surely occurred to generations of summertime vistors.
Location: Mid-Park at 72nd Street