Boating
At twenty-two acres the Lake in Central Park offers one of the most peaceful and bucolic settings existing at the center of any city in America. And what better way to enjoy this sanctuary than from one of the easily available excursion crafts (row boats). From Bethesda Fountain to Bow Bridge it is easy to imagine yourself, on a lazy summer afternoon, drifting along in your very own Merchant Ivory production (parasols optional). The waterside Boathouse Restaurant also offers an elegant location for refreshment while watching the navigational efforts of other intrepid urban mariners.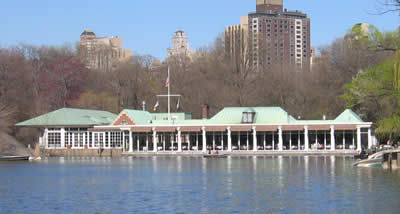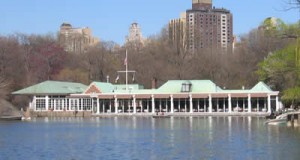 ?Where : Central Park's Lake — at the Loeb Boathouse on the east side between 74th and 75th Sts.
When : April 15th through October, weather permitting. Row boats can be rented at the Loeb Boathouse daily, 10:00am to 5:30pm (last rental). The boats must be returned by 6:30pm. Rentals cost $12 for the first hour, and $2.50 each additional 15 minutes; $20 cash deposit required. Up to 4 people per boat. Gondola Rides are also available during the summer from 5:00pm to 9:00pm Mon.-Fri. and 2:00pm to 9:00pm Sat.-Sun. Rides cost $30 per half hour – No reservations.  For more information call: 212-517-2233
Permit Requirements : No permit required.
Loeb Boathouse