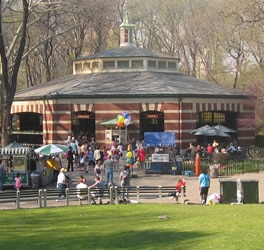 As the park spins by and the calliope tootles, it is easy to imagine yourself at a country fair miles outside the urban confines of New York City. The original park carousel opened in 1871 and was powered by a blind mule and a horse who walked a treadmill in an underground pit. It almost immediately became one of the park's most popular attractions and remains so to this day, with almost 250,000 riders a year. Originally the park commissioners had frowned upon commercial enterprises in the Park, but they eventually saw the popular attractions as valuable assets. They also recognized income that the city earned on the carousel's operation as a welcome source of needed revenue.
After being out of action for more than 18 months due to a pandemic and political turmoil, the historic Friedsam Memorial Carousel in Central Park will delight children once again, beginning today, October 16th!
The operators of Luna Park in Coney Island, Central Amusement International will take over operations from the Trump Organization, which lost its city contracts earlier this year due to the former president's role in the Jan. 6 attack on the U.S. Capitol.
"We are thrilled to be the new operators of the iconic Friedsam Memorial Carousel," said Alessandro Zamperla, president and CEO of Central Amusement International. "We look forward to working closely in partnership with our community, NYC Parks, the City of New York, and the Central Park Conservancy to ensure there is continued enjoyment and preservation of this incredible New York City treasure."