Chess & Checkers
The origin of Checkers (or Draughts) is not exactly known. Some historians believe that checkers may have been invented around 1000 AD. Probably in the south of France and Spain. As for Chess Most scholars agree that chess originated in India in the sixth century as chaturanga a military-style strategy game. In any case Central Park offers the perfect pastoral setting for these bloodless contests of will.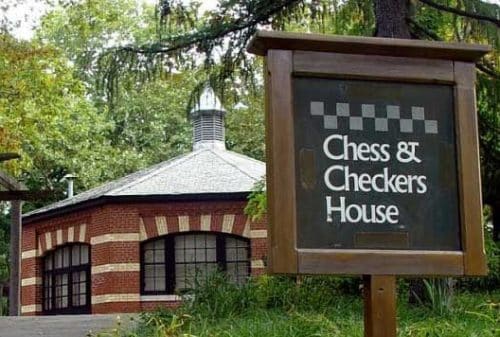 A short distance to the southwest of the Dairy, perched on the large rock outcropping once known as the Kinderberg, is the Chess and Checkers House. Built in 1952 as a gift of philanthropist Bernard Baruch, the octagonal red and cream colored brick structure has indoor as well as outdoor tables that attract play­ers of all ages and prowess.
Location: Chess and Checkers House, inside the Park at 65th Street just west of the Dairy, offers 24 outdoor chess and checker tables. A pergola offers plenty of shade.
When: The Chess and Checkers House is open Tuesday through Sunday, 10:00am to 5:00pm (4:00pm in the winter). In the summer, six- to thirteen-year ­olds are taught to play chess by experts provided by the Conservancy. For information call (212) 794-6564.
How: Bring your own chess or checker pieces, or borrow them at the Dairy. To borrow sets, a valid photo i.d. or $20 cash deposit must be left. Sets may be borrowed until 4:00pm and must be returned by 4:30pm.
Permit Requirement: No permit required.