Tisch Children's Zoo
One of the most popular places in Central Park is the Tisch Children's Zoo, added in 1997, financed by a generous gift from philanthropist Laurence A. Tisch.  With its imaginatively designed and toddler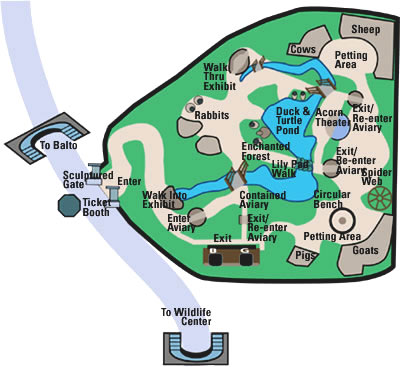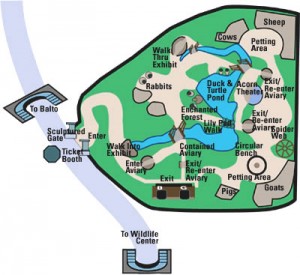 friendly exhibits the Children's Zoo offers a magical and educational experience for children and their parents.  It also offers year-round education programs, including the zoo's fascinating "Wildlife Theater", which encourage visitors of all ages to become aware of the natural world that they live in and how they can help in protecting it.
At the center of the Children's Zoo is the Enchanted Forest.  This is a magical place where giant insects hover overhead and a larger than life sized spider web offers a chance to exhibit developing climbing skills.  For a quarter visitors can purchase a handful of food that the animals are only too happy to nibble out of your hand.  The domestic animals available for petting include goats, sheep, a cow and a Vietnamese pot-bellied pig.  Small bronze sculptures of the residents are present at the front of each animal enclosure and when a child touches one of them it squeaks or moos the appropriate greeting.  A net stretches overhead in the aviary section of the zoo and enables toddlers to witness a wonderful collection of birds fluttering around them; these include Crested Doves, Hooded Mergansers, Golden Pheasants and Sacred Ibises.
The Acorn Theater inside the zoo features daily performances that entertain and also instruct about the lives and habits of a variety of animals.  Past shows include "I Eat Bugs" and "Metamorphosis Boogie."  Indeed there is probably no other place in the park, or even the city, that offers so many opportunities for children to crawl, climb and jump while interacting with a wonderful array of friendly animals, not to mention the informative and playful park personnel.  It would seem that they only difficult part of visiting is inducing the toddler set to leave.