Cornelian Cherry (Cornus Mas)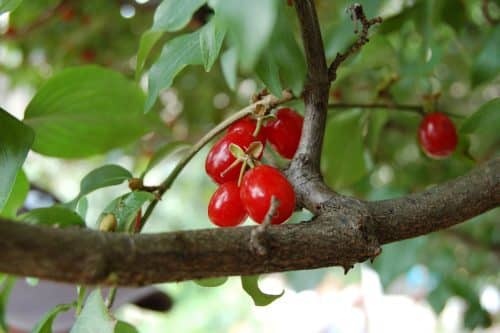 The Cornelian Cherry is a type of Dogwood that originated in Europe and Asia. It was probably introduced into this country before 1800. This ornamental tree grows well in a variety of soils and is tolerant of a great many climates, which makes it ideal for the sometimes challenging urban life in the Conservatory Garden. In fact it is reportedly the longest-lived kind of dogwood tree.  It is also ideal for Central Park because it is an early blooming shrub, with the first flowering buds appearing in March. Another advantage is that the Cornelian Cherry can withstand the sometimes cruel late frosts that can damage other early blooming fruit trees. This sturdy tree takes it all in stride. It is one of the earliest blooming fruit trees in the northeast.
Once prized for its fruits, this tree is now more commonly used for its ornamental value. It brings several seasons of entertainment to the garden, which makes it a valuable addition all year round. After the vivid blossoms fall and cover the ground underneath the tree, the glossy, deep green foliage appears. The leaves slowly turn to a vivid mahogany red as summer turns to autumn. During the winter the lovely, flaking bark takes over in colors that range from buttery tan to gray.
The Cornelian cherries themselves are among the tastiest of fruits. The flavor can vary from one cultivar to another, some having have tart fruits, while others tend to be more on the sweet side. The fruits can be used to make jellies, tarts, and other dishes. In Turkey, they are used to flavor sherbets. In Norway the blossoms are used to add flavor to distilled spirits. In Russia, the fruits are dried and ground for use in pancakes and baked goods. In France they're preserved in honey or sugar. In Greece, they're used for making brandy. In parts of Europe the unripe fruits are pickled in brine and eaten like olives. The seeds have even been found in sites occupied during prehistoric times.
This is obviously an ornamental tree that has been long enough to get by very nicely in the big city.  The Cornelian Cherry is a star every season in Central Park and never misses a cue.
Conservatory Garden
One of the hidden wonders of Central Park is the Conservatory Garden at Fifth Avenue and 105th St. A secluded oasis, just a few steps down from one of the City's busiest thoroughfares; the garden offers a fragrant respite from the gasp and clatter of the urban afternoon.