Daffodils (Narcissus)
[DiviShortcode id="8915″]Daffodils, along with Crocuses and Snowdrops, are one of the earliest of spring flowers and are always a welcome sign that winter is finally over.  The name Narcissus is derived from that of the youth of Greek mythology, who, in at least one of many variations of the tale, became so obsessed with his own reflection as he kneeled and gazed into a pool of water that he fell into the water and drowned. The legend continues that the Narcissus plant first sprang from where he died.
The name Daffodil is derived from an earlier "Affodell", a variant of Asphodel. The reason for the introduction of the initial "d" is not known, although a probable source is an etymological merging from the Dutch article "de," as in "De affodil."  In the southern United States, Narcissus are sometimes referred to as buttercups.
All Narcissus species have a central trumpet-, bowl-, or disc-shaped corona surrounded by a ring of six floral leaves called the perianth which is united into a tube at the forward edge of the ovary. The three outer segments are sepals, and the three inner segments are petals. Though the traditional daffodil of folklore, poetry, and field may have a yellow to golden-yellow color all over, both in the wild species and due to breeding, the perianth and corona may be variously colored. Breeders have developed some daffodils with double, triple, or ambiguously multiple rows and layers of segments, and several wild species also have known double variants.
The Daffodil is the national flower of Wales and it is traditional to wear one on Saint David's Day (March 1st).  It is easy to see why they are such an Easter favorite, signifying rebirth and the undeniable will to stick their heads up in the sometimes freezing weather of March.  An annual example of forgetting why and remembering how (beautifully).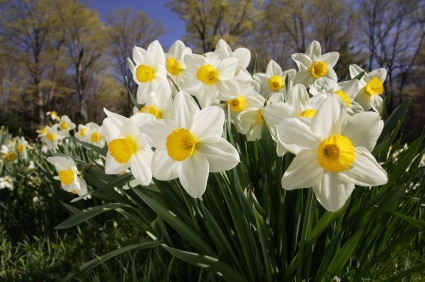 Conservatory Garden
One of the hidden wonders of Central Park is the Conservatory Garden at Fifth Avenue and 105th St. A secluded oasis, just a few steps down from one of the City's busiest thoroughfares; the garden offers a fragrant respite from the gasp and clatter of the urban afternoon.