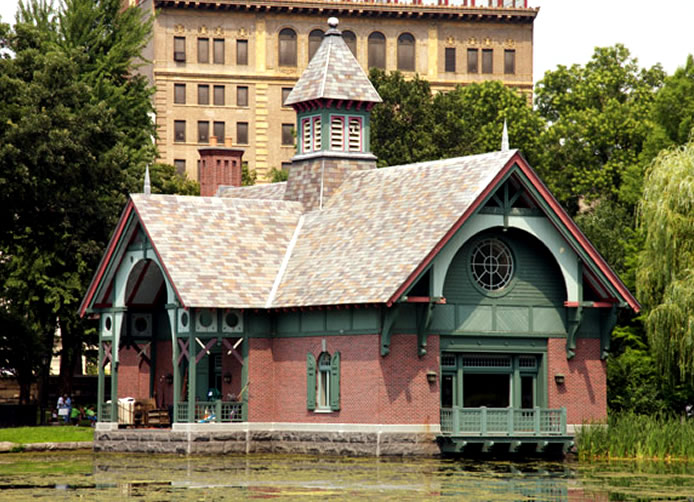 The Charles A. Dana Discovery Center is located at the northeast corner of the Harlem Meer and features the park's only environmental education center. It also hosts children's workshops throughout the year. It originally opened in 1993 and boasts a myriad of different programs throughout the year, everything form musical performances to the loaning of fishing gear for use in the Meer. It also serves as the upper park's visitor center and offers seasonal exhibits in its Great Hall, often in collaboration with other City cultural institutions.
The Center is named for Charles A. Dana, a newspaper editor and the assistant secretary of war during the Civil War. He was the editor of the New York "Tribune" from 1848 until 1862. During the war, he served an important role as mediator between General Grant, Edwin Stanton (secretary of war), and Abraham Lincoln. He is most commonly remembered as the owner of and guiding editorial voice behind the New York "Sun."
The northern end of the park was the last to be constructed as the blocks from 106th to 110th Sts. were the last to be purchased. Nestled up in the north east corner the Harlem Meer, at 11 acres the second largest man made body of water inside the park, considered to be one of the loveliest and It went through an extensive renovation during the mid-nineties .
Location: Inside the Park at 110th Street and Lenox Avenue
Hours: 10am-5pm, Tuesday- Sunday
Catch-and-Release Fishing; April to October; Tuesday to Sunday; 10am-4pm
(212) 860-1370