Grape Hyacinths (Muscari armeniacum)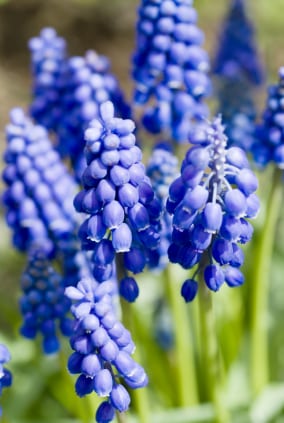 Grape Hyacinths are a group of plants in the genus Muscari of plants native to Eurasia that produce spikes of blue flowers resembling bunches of grapes. There are about forty species.  In reality Grape Hyacinths actually not Hyacinths at all, nor are they, obviously, grapes.  They are members of the Lily family, and are native to the Mediterranean area and Asia Minor.  Small plants, they usually don't grow more than 10 inches tall.  They produce blue or purple petals that are fused together and have small white tips, giving them a balloon-like or, well…..grape like appearance, and they have sort of a musky-grassy smell.  One grape hyacinth plant doesn't look like much, but in a mass planting, these small bulbs can be quite impressive, as they are in the Conservatory Garden.
Grape Hyacinths are among the earliest to bloom in the spring.  They are also one of the plants to choose if deer are a problem in your area (okay, not a problem in Central Park).  They are also very tolerant of various levels of sunlight.  In general they are a great complimentary garden component to Daffodils, Tulips, and just about any other spring blooming shrub imaginable, adding a beautiful shade of blue that is otherwise extremely rare at time of year.  They have grass-like, gracefully arching leaves, and make good border and container plants.   Grape Hyacinths are possessed of a very subtle and lovely fragrance, so if you see one in Conservatory Garden take the time to give it a whiff, just remember, no touching.
Grape Hyacinths come to life just as everything else is dying down.  Bulbs are planted in the fall.  In established plantings, the leaves will emerge in late summer and persist through the winter, making a nice looking winter border along paths, etc.  They will tolerate very cold weather, down to at least zero, but may experience some damage in extreme weather.  They flower in early to mid-spring, and after flowering, as with most bulbs, the leaves should be left intact until they die back.   They are propagated by seed or by separating their bulb offsets, which is the more common way.
Conservatory Garden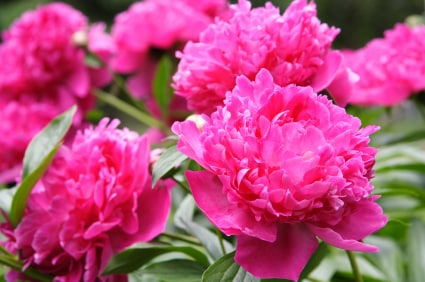 One of the hidden wonders of Central Park is the Conservatory Garden at Fifth Avenue and 105th St. A secluded oasis, just a few steps down from one of the City's busiest thoroughfares; the garden offers a fragrant respite from the gasp and clatter of the urban afternoon.