Hollyhocks (Althaea rosea)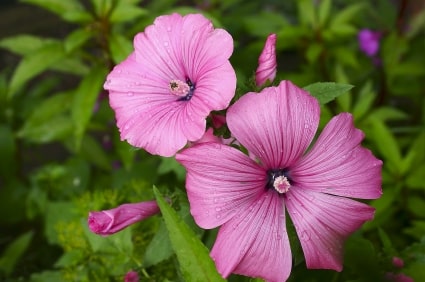 Hollyhocks are a beautiful part of the mid-summer flowering landscape in the Conservatory Garden.  With their rich purple color and delicate flowers they provide a touch of old-world elegance to the garden during their appearance from early June to late July.
Hollyhocks derive their name from an old English expression meaning "Holy Flower" and have been found in Stone Age burial sites.  They have a rich history throughout the world.  One noted American horticulturalist that bred a dark red version of the flower was Thomas Jefferson.  Apparently he cultivated his flower beds at Monticello when he wasn't pursuing his hobbies of declaration writing and nation building.  A stylized, symmetrical hollyhock is the seal of the Tokugawa family in Japan, and is often used as a reference to the era in Japan's history where that family ruled the country.
The facts – Hollyhocks comprise about 60 species of flowering plants in the genus Alcea in the mallow family, native to southwest and central Asia. They are biennial or short-lived perennial plants growing to 3.5 m tall, with broad, rounded, palmately lobed leaves and numerous flowers, pink or yellow in the wild species, on the erect central stem.
Hollyhocks are also very drought resistant, and do well in full sun locations that might be too hot or dry for other plants. They produce large, flat coin-shaped seeds (1/2″ diameter) that seem to grow easily wherever they drop. While an individual plant might only live a handful of years, by that time chances are good it will leave plenty of descendants. They have very long taproots which make transplanting difficult.
The Hollyhocks of the Conservatory Garden form a lovely component to the garden during the middle months of summer and it is easy to see why they have earned such a dedicated following over the years.
Conservatory Garden
One of the hidden wonders of Central Park is the Conservatory Garden at Fifth Avenue and 105th St. A secluded oasis, just a few steps down from one of the City's busiest thoroughfares; the garden offers a fragrant respite from the gasp and clatter of the urban afternoon.