Irises (Iris pseudacorus)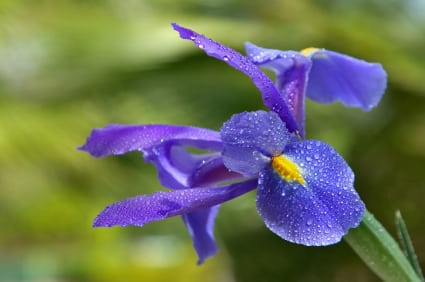 The Irises that grow in the Conservatory Garden don't share the fame of their cousins that hang in the Metropolitan Museum of Art, just a mile to the south.  However they do display the same deep, opalescent blue color and intricately inviting design that inspired Van Gogh to paint them a century ago.  In fact the name Iris comes from the Greek word for rainbow.  It is easy to see from their multi-hued blossoms how they inspired such a colorful name.
The Iris is one of the earliest flowers to bloom in the spring, making its appearance in late March or early April, just after the daffodils and crocuses have opened the new season.  They are perennial herbs that have tall, erect flowering stems and feature flowers that consist of petals that are specifically designed to not only look aesthetically pleasing to us, but are also constructed to form an ideal landing platform for pollinating insects.
Irises also have a number of practical employments. They are used in producing perfumes, the distilled scent being very similar to Violets.  Essential oils derived from the flower are also used in aromatherapy, their scent said to have a sedative effect.  For that reason iris oil was traditionally used to sooth mothers in childbirth, as well as help to quiet their wailing babies.
The beautiful azure flowers also have a diverse and colorful symbolic history.  Perhaps the most famous of these is the fleur de lis, a stylized iris, which has for hundreds of years been the floral emblem of France. It was patterned after a white iris which graced the walls of its native city of Florence Italy.  A white iris on a red background was the symbol of the of the city until the Medici family, to signal a change in political power, reversed the colors making the white one red and setting in motion a centuries-long breeding program to produce a hybrid red iris.  Catherine de Medici carried this symbol of Florence to Paris when she married King Henry II of France in 1547.  It was then that this most famous of irises acquired its new name, fleur-de-lis.  In the United States the flowery symbol can be found in a highly unlikely spot – on the sides of the helmets of the New Orlean Saints professional footbal team.
Even without this royal pedigree it is easy to see why the Iris is a favorite flower the world over and a particularly lovely harbinger of spring in the Conservatory Garden.
Conservatory Garden
One of the hidden wonders of Central Park is the Conservatory Garden at Fifth Avenue and 105th St. A secluded oasis, just a few steps down from one of the City's busiest thoroughfares; the garden offers a fragrant respite from the gasp and clatter of the urban afternoon.