Lawn Sports
Lawn bowling or "bowls," as the game is known throughout the British Commonwealth — is played on 120 ft. x 15 ft. rinks within a 120 ft. square green. The object is to roll the bowl so that it comes to rest close to a small white ball (the jack) at the far end of the rink. The three-pound bowl, made of a plastic composite, does not roll in a straight line. Due to its shape (it is biased, not round), the bowl rolls in a curve. A player wins points by placing more bowls closer to the jack than his or her opponent. Games are played by individuals or two-, three-, or four-person teams. Simple, huh? Did we mention that this was a British game?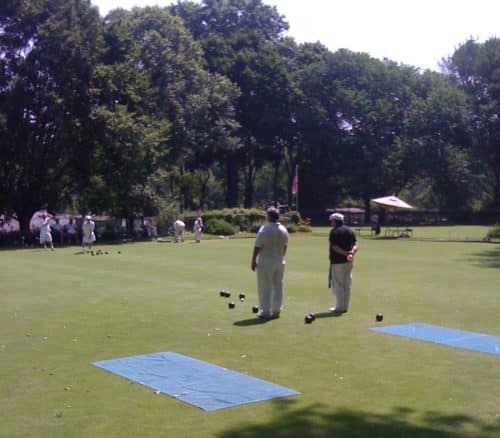 The New York Lawn Bowling Club, founded in Central Park in 1926, welcomes all New Yorkers who want to take part in a challenging sport that traces its origins to ancient times. Members bowl at the green — north of Sheep Meadow, near the West 69th Street pedestrian entrance — every day except Monday. The season runs from May 1st  to Columbus Day. The fields are open daily only to members who have the combination lock number to open the gates.  The club provides all necessary equipment.
Annual dues: $95 which includes the Park permit. Equipment and lessons are provided to new members free of charge. For information please visit www.nybowls.com.
The New York Croquet Club is an organization of players devoted to the sport of croquet. Located in Central Park, NYCC invites everyone interested in croquet to join the club.  We play 6-wicket croquet at the NYCC, usually American 6-Wicket, but also Golf Croquet and Association Rules.  The playing season opens in May and runs into October. We offer free clinics weekly to introduce techniques and the games to the public.  Guests may play for free twice a season, accompanied by a current member, in good standing.  The New York Croquet Club is a founding club of the United States Croquet Association.  For information on the New York Croquet Club, call (212) 369-7949.
Location: the fields are located at West 69th Street, north of Sheep Meadow. Central Park has two beautifully kept fields for lawn bowling and croquet, each 15,000 sq.ft.
When : the season runs from May 1 to November 7; hours of play are 8:00am to dusk. Fields, when not under repair or reserved for tournaments conducted by City of New York/Parks & Recreation, are open daily, weather permitting.
Order of play is determined by order of arrival at field. Players are required to furnish their own equipment.
Permit Requirement : each player must hold a permit. Permits are strictly personal and non-transferable. Duplicate permit will not be issued unless another fee is paid. Permits can be obtained in Room 1 (basement) at the Arsenal building, Fifth Avenue & 64th Street. Office hours are 9:00am to 4:00pm Monday through Friday, and Saturday 9:00am to 12pm (Saturday hours are valid for April, May and June only). Additional information available at 212-360-8133. Fee for either permit $30.
Lawn Bowling