Loeb Boathouse
The Loeb Boathouse, one of the most famous icons of Central Park is located at the northeastern tip of the Lake and houses the Boathouse Restaurant. It is a romantic setting for dinner on a mid-summer's evening, watching the sun sink behind the trees and maybe catching a gondola slowly poling past.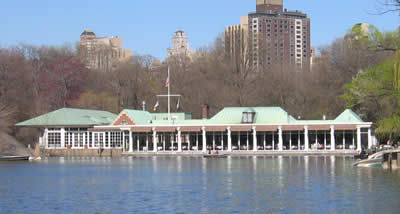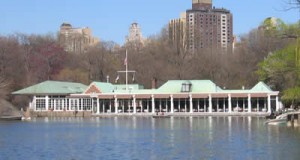 Around 1874, Calvert Vaux designed a two-story boathouse at the eastern end of the Lake. About the new Boathouse Vaux said: "In order to compensate for the interruption of the view from the walk, and better accommodate those who should wish to wait in the vicinity, the roof was made a deck to be covered with awnings furnished with seats." The original structure served nobly for eighty years until the 1950's, by which time it was so run down that it had to be demolished. The current Boathouse took its place in 1954 and was largely financed with a gift from investment banker Carl Loeb.
Today the Boathouse features year round dining, with overhead heating helping to compensate for the chilly winds of winter and enabling patrons to enjoy the view overlooking the lake. More informal snacks are available on the outside terrace across from the bicycle rental concession. And of course you can also rent rowboats or take a ride in an authentic Venetian gondola.
The Boathouse is also used by the dedicated group of Central Park Bird watchers who come virtually every day to record their observations of birds and other Park wildlife.
Location: East Side between 74th and 75th Streets
Restaurant
Monday – Friday
Lunch: 12pm-4pm
Dinner: April – November, 5:30pm-9:00pm
Weekends
Brunch: 9:30am-3:45pm
Dinner: April – November, 6 pm – 9:00 pm
Outdoor Bar and Grill
April – November, 11am-11pm weather permitting
Café
Daily 8am–5pm (Winter 8am-4:30pm)
Restrooms
Yes
Wheelchair accessible.
Row Boat Rentals
April – November, weather permitting.
Daily 10am till dusk.
$20 cash deposit, $12 for the first hour, $2.50 each additional 15 mins; up to 4 people.
Call 212-517-2233 for more information.
Gondola
$30 per half hour with host Andres Garcia, weather permitting. Up to 6 people.
For more information, please contact the Loeb Boathouse at 212.517.2233.