Sunbathing in Central Park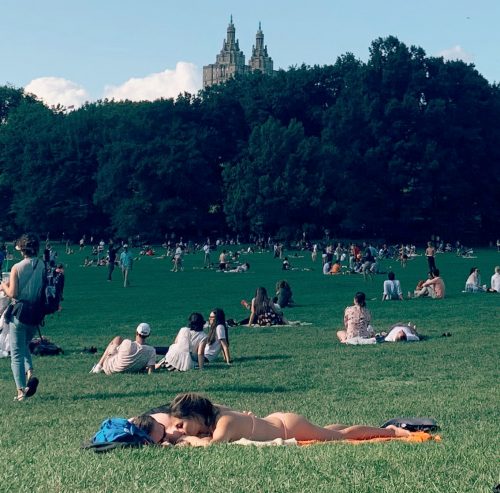 Sunbathing in Central Park is a favorite activity during summer months and is one of the most delightful signs that the winter is officially over. Favorite spots for sun worship include:
The East Green – The northern edge of The Dene at 72nd St. on the east side of the park.
The East Meadow – Just east of the North Meadow at 100th St.
The Great Lawn – At the Center of the park between 80th and 84th Sts.
The Sheep Meadow – The west side of the park between 67th and 71st Sts.
Cedar Hill – The east side of the park just south of the Metropolitan Museum of Art at 78th St.
The North Meadow – at the North end of the park between 97th and 102nd Sts. at the center of the park
You will find that there are any number of spots that can be found while you wander throughout the park. Sometimes it is best to trust to serendipity. Of course there are certain common sense rules that apply. Spreading a towel or blanket too close to a ball field could result in unanticipated participation. And it should be remembered that even though you are at the center of Manhattan it is the same sun that shines on Jones Beach and you can get burned.