The Central Park Tennis Center offers the largest collection of public courts in the city, with 26 clay and 4 asphalt courts. The Tennis Center itself also offers a convenient restroom stop and a small snack bar, and, of course a great place to watch tennis.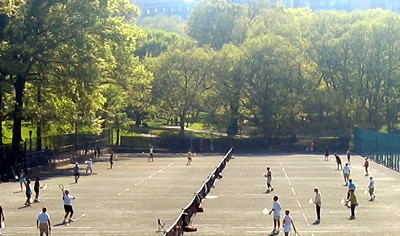 Located between West 94th and West 96th Street near the West Drive, the Tennis Center requires reservations and guests need to have either a season permit or a single-play pass.  Seasonal in Central Park, tennis is only played from April through November.  To learn more about Tennis in Central Park and how to optain a permit or pass visit our Tennis Page.
Awarded "Facility of the Year Award" by the United States Professional Tennis Registry (USPTR) in 2000, the Tennis Center offers various opportunities for all ages to experience the sport.   The reasonably priced lessons for adults and seniors are excellent and the center even has youth mini camps for young tennis lovers.
For further information and details, visit the Tennis Center's Official Website or call (212) 316-0800.
Central Park Tennis Center