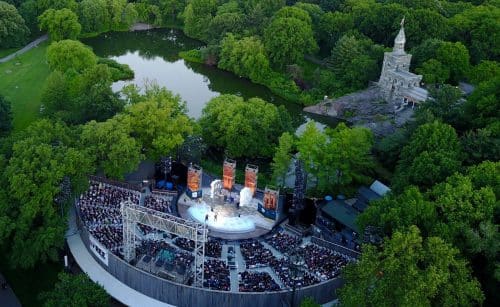 With music and lyrics by Benjamin Velez and directed by Obie Award winner and Director of Public Works Laurie Woolery, this ambitious work of participatory theater explores the grief of being cut off from community, the desire for retribution, and the healing power of love.
THE TEMPEST
By William Shakespeare 
Music & Lyrics by Benjamin Velez
Choreography by Tiffany Rea-Fisher
Directed by Laurie Woolery 
The Delacorte Theater
August 27 – September 3, 2023
As the Public Theater's Public Works program enters its second decade it will relaunch the play that launched the program, William Shakespeare's THE TEMPEST. In The Public's decade-long tradition of bringing together a diverse ensemble of both professional and community members from across New York, this Public Works production examines what it means to be isolated and how we find our way back to one another.
Forced from their home, Prospero and her daughter Miranda have survived for 12 years among the ruins of an abandoned island. As Prospero grows closer to getting the justice she desires, she witnesses her daughter fall in love, listens to the wisdom of spirit ancestors, and discovers that sometimes forgiveness is the only way to break cycles and right the course for the next generation. Hilarious fools, magical spells, and ancestral spirits dance through this production as we all come together to celebrate what it means to be human.
The Equity cast of THE TEMPEST will include Tristan André (Sebastian), Brianna Cabrera (Spirit Ancestor Lead Singer), Sabrina Cedeño (Trinculo), Anthony Chatmon II (Antonio), Renée Elise Goldsberry (Prospero), Jo Lampert (Ariel), Patrick O'Hare (Spirit Ancestor Lead Singer), Joel Perez (Stephano), Edwin Rivera (Spirit Ancestor Lead Singer), and Theo Stockman (Caliban).
2023 FREE SHAKESPEARE IN THE PARK TICKETS
Any official changes to the distribution policies will be shared here. For free ticket availability for each evening's performance, visit our  DAILY TICKET UPDATE.
Free tickets are distributed on each public performance day via the free ticket lines at The Delacorte Theater in Central Park.
There are three separate distribution lines at The Delacorte Theater in Central Park:
IN-PERSON LOTTERY AT THE PUBLIC THEATER
On each public performance date, a limited number of ticket vouchers for that night's performance are distributed via an in-person lottery at:
425 Lafayette Street (at Astor Place) NY, NY 10003
IN-PERSON DISTRIBUTION IN THE BOROUGHS
A limited number of free ticket vouchers will be distributed on the day of select performances at locations throughout the five boroughs of New York City.
A limited number of free tickets are distributed via digital lottery on the TodayTix app on most public performance dates. Examples of non-public performances are Openings, Invitational Community Nights, and Galas.
Download the  TodayTix app in the Apple App Store or Google Play Store.
Open the appand scroll down to find Free Shakespeare in the Park or search for Free Shakespeare in the Park.
Enter the lotteryfor one or two free tickets. You may double or triple your odds on the confirmation screen by sharing your entry via Facebook and Twitter.
See If You Won!Monitor your phone or email at 12PM Noon to see if you have won and claim your tickets for that evening's performance.
More things to know:
IN-PERSON STANDBY LINE IN CENTRAL PARK
After the final ticket is distributed for that day's performance, anyone who did not obtain a ticket may begin to form a standby line at The Delacorte Theater in Central Park. Our standby line can be closed anytime by management for any reason.