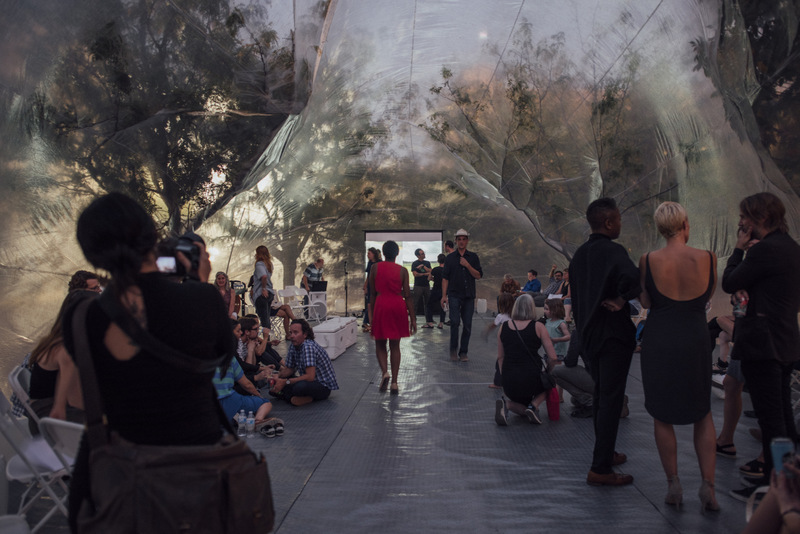 In celebration of the 50th anniversary of Art in the Parks, Spacebuster, in partnership with the Storefront for Art & Architecture, is bringing its pop-up exhibition, New Icon-i-Cities, to Central Park on Saturday, October 21 from 11 am to 3 pm.
The exhibition will bring audiences inside Spacebuster, a van outfitted with an expanding inflatable bubble that houses up to 120 people. It is an extension of the Storefront's current installation, Souvenirs: New New York Icons, which is comprised of original work by 59 artists to "represent and redefine the collective imagery for each of New York City's 59 communities."
According to a press release, New Icon-i-Cities aims to "bring together critical approaches to the shifting and complex iconography of the city." By bringing this bubble to Central Park, participants will have the opportunity to attend a series of talks and a workshops in a unique space, inspiring visitors to perceive New York differently.
Spacebuster is all about allowing visitors to present their ideas on what constitutes an icon of the city today. Project creator, raumlaborberlin, wants New Yorkers to "produce their own iconography for their neighborhoods."
Photo courtesy of Channel V Media
This event also combines ideas from We Like America, an experimental Spacebuster road trip that traveled America's Rust Belt to transform public spaces into impromptu community zones.
This multifaceted collaboration comes together in celebration of Art in the Parks, an initiative by the New York City Parks Department that allows artists to transform the city's public spaces through sculpture, music, theater, dance, and poetry. Over 2,000 works of art later, the initiative is now in its 50th year; its anniversary will be celebrated during the Parks Department's program, "It's Happening! Celebrating 50 Years of Public Art in NYC Parks."
Join in on the festivities by exploring Spacebuster, which will be located at Central Park's East Pinetum on East 84th Street from 11 am to 3 pm Saturday, October 21.