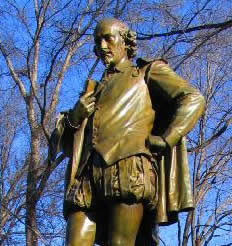 ANNOUNCING THE 2011 SHAKESPEARE IN THE PARK SEASON
Two Shakespeare Plays to be Performed in Repertory
June 6 – July 31, 2011
The 2011 Shakespeare in the Park summer season will once again present two Shakespeare plays in repertory, giving audiences eight straight weeks of free Shakespeare at the Delacorte Theater in Central Park. Daniel Sullivan, who recently directed Twelfth Night and The Merchant of Venice in the Park, will direct All's Well That Ends Well and David Esbjornson, who directed Much Ado About Nothing in the Park, will direct Measure for Measure.
"Last year's Shakespeare rep was a thrilling success; the current run of The Merchant of Venice on Broadway is a wonderful reminder of what made last summer so magical," says Public Theater Artistic Director Oskar Eustis. "This year, two of Shakespeare's richest and most rewarding plays make up our season. We are delighted that once again an American Shakespeare company will light up New York's summer."
ALL'S WELL THAT ENDS WELL
A fairytale for grown-ups, this beguiling fable follows the low-born Helena, one of Shakespeare's most resourceful heroines, as she inventively surmounts obstacle after impossible obstacle in order to win the love of the aristocratic and haughty Count Bertram.
MEASURE FOR MEASURE
Measure sweeps from the corridors of national power to the intimate confines of the bedroom, and from the convent's chapel to the executioner's block. It is Shakespeare at his grittiest: a bracing and bawdy glimpse of what happens when those in power allow their basest human impulses to range unchecked.
Coming Soon: Information about how to support this summer's thrilling season of American Shakespeare and receive reserved seats as a thank you. Stay tuned!