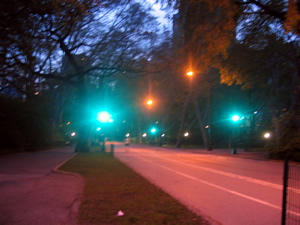 Central Park Moonlight Ride
Friday, March 4th, 10 p.m.
Columbus Circle (SW corner of Central Park)
Join other nocturnal New Yorkers for our favorite starlit group bike ride.  The Central Park Moonlight ride got its start on a summer night 15 years ago and is still going strong.  Come enjoy the tranquility of the park and its beautiful ponds and waterways.  This totally safe ride, with front and rear bike guides, is a nature lover's dream in Manhattan!
The Moonlight ride was highlighted as part of the City's "Go Local Initiative" campaign on NYCgo.comand mentioned on NY1's Travel Segment!  Click here for more information on the ride