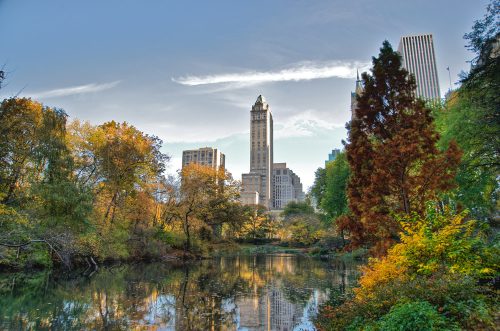 Central Park boasts attractions with some of the cities most recognizable names: Loeb Boathouse, Wollman Rink and Tavern on the Green to name a few. Now, for the first time since 1934, a little-known, four-acre woodland called Hallett Nature Sanctuary will join that esteemed list.
Closed in 1934 by NYC Parks Commissioner Robert Moses, the track of land was designated a bird sanctuary and cordoned-off from the public. It remained untouched, even by park employees, until 2001 when the Central Park Conservancy began once again maintaining and cultivating growth in the heavily-wooded area.
The Sanctuary did host many birds throughout the years, but an infestation of non-native plants and wisteria threatened to wreck havoc on its environment. Now, thanks to the conservancy, it's been restored.
But even though the Hallett Nature Sanctuary will now be open to the general public, there will be restricted hours at which visitors interested in sampling the pristine nature hidden at the center of the concrete jungle will be able to stop by.
April 1 – June 30
Monday, Wednesday, Friday: 2:00 pm – 5:00 pm
July 1 – August 31
Monday & Friday: 2:00 pm – 5:00 pm
Wednesday: 2:00 pm – 7:00 pm
Sunday: 11:00 am – 1:00 pm
Thursday, May 12
Open Birding Hours
8:00 am – 10:00 am