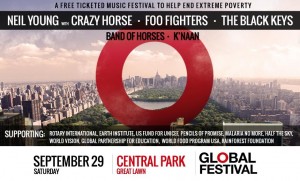 This September, as the world's leaders gather in New York for the UN General Assembly, the Global Festival will bring top artists and 60,000 change makers together on the Great Lawn of Central Park on September 29 to urge our leaders and fellow citizens to do more to help end extreme poverty.
This advocacy concert will celebrate the progress already made in fighting extreme poverty, secure financial commitments for tackling extreme poverty and disease, and mobilise thousands of ambassadors for change. We'll unite around a simple yet powerful idea: that by giving every child a chance to thrive, our generation can end extreme poverty.
How do I get tickets?
The Global Festival is a free, ticketed event. To go in the draw for tickets, simply register as a Global Citizen, and then earn three or more points by learning, sharing, or taking action to tackle extreme poverty. You can find more information about how get tickets here.
I really, really want to go. How can I guarantee myself a ticket?
We've got a limited number of  VIP tickets on sale here.
Who's behind the Global Festival?
The Global Festival is an initiative of the Global Poverty Project, who have teamed up with Goldenvoice to produce the Global Festival. We're proud to be working in support of a diverse range of NGOs fighting extreme poverty, who you can learn more about here.
Who is making the Global Festival possible?
The Global Festival is being generously supported by a range of Foundations, private donors and businesses. We would like to thank the Pratt Foundation, Sumner M Redstone Foundation, Bill & Melinda Gates Foundation, and Capital for Good, for their generous support in making Global Citizen and the Global Festival possible. We would also like to thank our in-kind sponsors, FedEx, MILK, Square, HP, Time Out NY, and Clear Channel.
I've got more questions…
See our Global Festival FAQs here