To celebrate 50 years of summer performances at the Delacorte Theatre in Central Park, The Public Theater has picked the perfect Shakespeare work — "As You Like It."   Brilliantly directed by Daniel Sullivan, whose past park triumphs include "Twelfth Night" and "Merchant Of Venice", the production wonderfully celebrates the park itself, with John Lee Beatty's staging expertly obscuring the line where the park ends and the stage begins.  The setting is 1840's frontier America, which depicts the magical forest of Arden as a sort of buckskin Eden.
Lily Rabe, whose breakthrough performance as Portia two years ago amazed audiences in the park, and later on Broadway, is Rosalind and David Furr plays her erstwhile suitor Orlando, while Sullivan once again deftly adds the perfect musical accompaniment with songs penned by Steve Martin (yes that Steve Martin) for the rustic setting.  Sullivan has given his actors full rein to milk every laugh, particularly Oliver Platt as the wise buffoon Touchstone.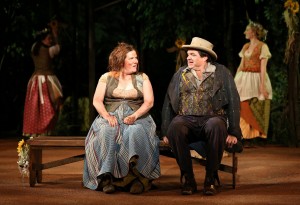 "
As You Like It
" is often described as Shakespeare's most musical play and the addition of bluegrass melodies to the Bard's lyrics are so fitting integrated that they overwhelm any initial skepticism. A four-part band — fiddle, guitar, banjo and bass led by
Tony Trischka
— winningly plays the music onstage, sometimes part of the action and sometimes apart. A few of the tunes are so well done, you'll hope Martin will get them recorded.As the magic forest of Arden fills the Delacorte Stage with song and merriment the Central Park setting transforms the summer night into a special realm all its own.  Not to be missed!