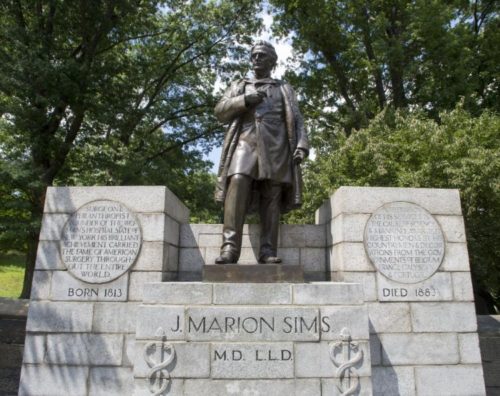 A statue of Doctor J. Marion Sims, credited by many as the father of modern gynecology, is being moved under the city's push to oust symbols of hate on city property. East Harlem residents and city officials have long advocated for the statue's removal, asserting that it honors Sims's medical achievements while overlooking that between the years 1845 and 1849, he performed gynecological exams on 12 enslaved women without anesthesia, NBC New York and DNAinfo report.
East Harlem City Council member Bill Perkins has taken a strong stance against the statue, and is calling for its removal.
"The community has seen statues along the way for years, but once the community began to study these statues and understand what they mean, they found out that they come from a mentality and an era that are quite inconsistent with today and the future," Perkins said at a Monday rally calling for the statue's removal. "And while one might say it's just standing there, it represents us, and I don't believe that the community in general finds this something to brag about."
The statue stands in Central Park, near Fifth Avenue at 103rd Street near the Museum of the City of New York. On Saturday, protestors from Brooklyn Youth Project 100 dressed in "bloodied" hospital gowns gathered at the site to condemn the monument to Sims.
"Anarcha, Lucy and Betsy—these women had names," City Council speaker Melissa Mark-Viverito said at Monday's rally. "He repeatedly performed surgery on black women without anesthesia because, according to him, black women don't feel pain."
The city will move the Central Park monument to Green-Wood Cemetery in Brooklyn, where he's buried.